​News and Company Information



​
Winning Strategies for Volatile Markets +44% YTD.
(Sep 30, 2022)
Scott Andrews delivered an insightful presentation at the September 2022 MoneyShow. Click on the Read More below to watch a video of his presentation. You will see: 1- What is Not Working in 2022, 2- Winning Strategies for Volatile Markets, 3- Why these strategies are working best right now, 4- Two ways to add them to your Portfolio. Scott reveals critical lessons learned and how he has applied them to create winning strategies for volatile Markets. Read more....

Worried about Market Volatility? Don't Be.
(Apr 27 2022)
Our own CEO, Scott Andrews is interviewed by Joe Innace of Advisor's Magazine and asked about how he and InvestiQuant are responding to current crisis events around the world. Scott takes Joe through his personal history and how that led to InvestiQuant's systematic investment strategies and automated trading system that respond to crisis and volatility. Read more....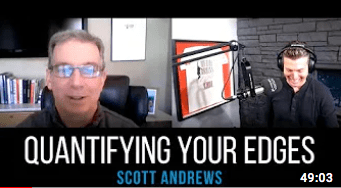 Quantifying Your Edges, Futures Radio with Anthony Crudele
(Jan 20 2021)
Anthony Crudele, host of Futures Radio and Scott Andrews discuss how to be more systematic. Listen as they discuss the 3 "Cs", edge quantification, building a portfolio of quantified edges, and more. You will find this discussion insightful, educational and at times, a bit humorous.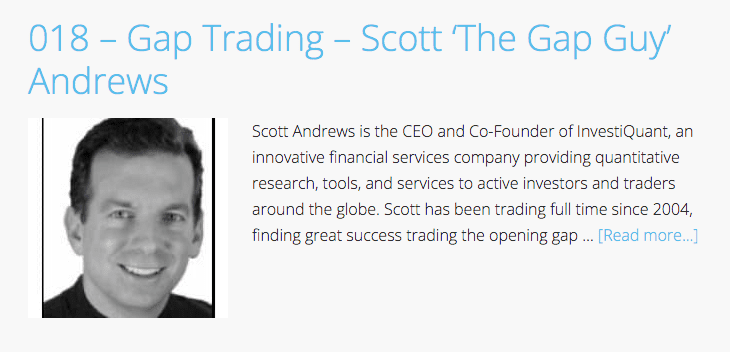 Better System Trader - Gap Trading with Scott "the Gap Guy" Andrews
(Mar 2, 2013)
Scott shares his expertise in gaps, explaining what factors to take into account when trading gaps and what to avoid. Hw also discusses gap zones, when to fade and when to follow and calculating stops and targets. Click on the picture to watch the video.


Handicapping the Future of Financial Markets,

by Brett Steenbarger (Mar 28, 2020)



.... InvestiQuant - Scott Andrews and team take a somewhat different approach to historical analysis that is quite relevant for daytraders and active investors. Covering the majority of futures markets and index ETFs, IQ provides user-friendly menus that enable users to discover their own market patterns. A useful feature provides statistically significant results to users, as illustrated in some of their tweets. This is one of the few platforms that enables traders to conduct their own quantitative analyses without having a detailed background in programming or statistics.


How to develop your edge in financial Markets,

by Brett Steenbarger (Feb 18, 2020)



.... Among the platforms offering quantitative strategies for discretionary traders are InvestiQuant, ...... These services are allowing investors and traders without programming or mathematical expertise to generate objectively backtested signals. These can be combined with one's own pattern recognition in a hybrid fashion to create investment ideas with multiple, independent sources of edge.


InvestiQuant Launches 'Around-the-Clock' Quantitative Trading Service
Scott Andrews, CEO and Co-Founder of InvestiQuant, Inc. and Rob Hanna, Co-Founder and VP of Research, are pleased to announce the launch of InvestiQuant.com.
The new InvestiQuant.com (IQ) site provides comprehensive, quantitative research for intraday, overnight, and swing (multi-day) time frames across thousands of equities, ETFs, futures and commodity markets. "For the first time, active traders can make objective, fact-based decisions while avoiding the pitfalls of both chart-based analysis and algorithmic back-testing techniques," says Scott Andrews, CEO of InvestiQuant.

The Importance of Having Automated Strategies
(April 4, 2016)
Stocks & Commodities Editor Jayanthi Gopalakrishnan interviews Scott Andrews on his evolution as a trader and how he came to believe "the importance of having automated strategies". You can walk through that evolution and gain key learnings from critical moments in his journey. Scott talks about the moment he learned that patterns everyone thinks are right, only worked in certain market conditions.


SciQuest Founder Raises $1.5M for New Startup
Scott Andrews, who founded Morrisville-based SciQuest (NASDAQ: SQI) in his basement, is closing a $1.5 million round with his new startup, InvestiQuant, formerly known as Master The Gap. Long-term clients contributed to the raise, which will be used to build the company's new website and technology infrastructure..


Master the Gap Receives Growth Capital - Changes Name to InvestiQuant
Scott Andrews, Founder and CEO of Master The Gap, Inc. announced today that it has changed its corporate name to InvestiQuant, Inc., and is closing on $1.5 million in funding from some of its long-term clients. The funding will be used to build the company's new website and technology infrastructure, and to create a single destination for active investors and traders interested in quantitative trading research, education, and tools for short-term strategies.


The Art of War and Science of Trading,

by Scott Andrews



In most pursuits, be it education, business or sports, we are taught that hard work is the key to success. This is not always so in trading, at least not at first. Most experience this firsthand when they launch a trading career. Trading is different. Effort often seems inversely correlated with results if that effort is not spent on preparation.