iQ

Solutions:

​Diversify, Protect, and Grow Your Wealth
​
with iQ's Autotrading Programs
Since 2008, InvestiQuant's commitment to innovation and algorithmic trading has made us a trusted alternative investment for traders and investors alike. Our autotrading programs are designed for volatile markets and a wide range of market conditions, including bull markets, bear markets, and non-trending markets.
InvestiQuant offers a wide array of automated trading programs. Each is designed for different funding levels and risk tolerances with the goal of generating strong returns, with controlled risk, regardless of the direction of the broader markets.
The following are the actual trading results (not hypothetical) realized in live trading of client accounts in 2022: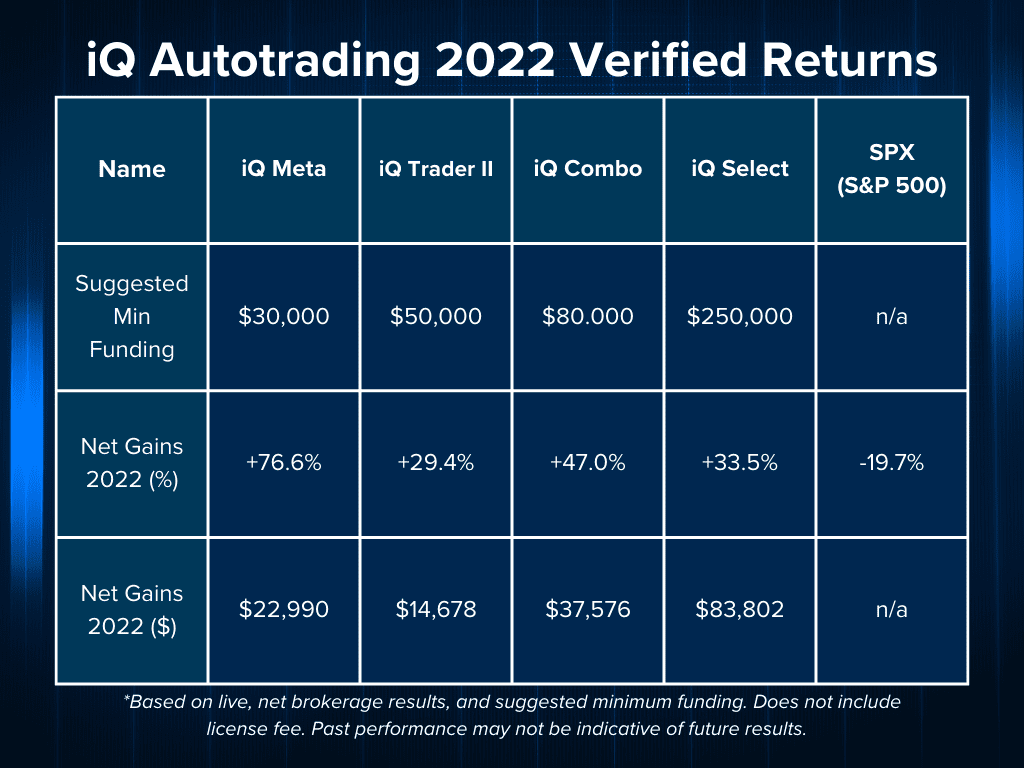 All of InvestiQuant's quantitative trading programs are executed fully systematically during the regular trading hours of the US equity markets and can trade in either direction (long or short) depending on the statistical bias for the day, using highly liquid, tax-advantaged, index futures contracts.
Meet Our Stellar Lineup Of

Automated Trading Programs



iQ

Meta
This automated algo trading program uses InvestiQuant's 2nd generation A.I. machine-learning engine and monitors real-time price action of the S&P 500 equity futures markets with the goal of identifying and trading days in which the market has potential for an outsized move relative to the risk required. It is designed to take advantage of volatility without exceeding our strict risk parameters. We think of it as a "home run" hitter.

iQ

Trader II
This automated trading program also monitors S&P 500 index futures markets with the goal of identifying and capturing attractive intraday momentum and mean reversion opportunities based on unique events, price patterns, and machine-learning ensembles. Diversification within the program, along with A.I. signal confirmation, provides a more stable return stream and is accomplished by utilizing more than 10 different, lowly correlated, intraday trading strategies. We've relied on the professional trading algorithms in this program for at least 5 years, and some were even used to profitably navigate the bear market of 2008.

iQ

Combo
This powerful combination of the iQ Meta and iQ Trader automated programs monitors real-time price action of the equity index futures markets with the goal of identifying and capturing attractive long and short intraday opportunities. Combining iQ's most proven trading program with our advanced, home-run-hitting day trading algorithm maximizes the probability of achieving superior risk-adjusted returns.

iQ

Select
This is InvestiQuant's most diversified program and is engineered for larger investors who seek less portfolio volatility. It includes the same strategies as the iQ Meta and iQ Trader programs, along with a proprietary portfolio of long-term established strategies designed for specialized markets like the NASDAQ. These "select" strategies are only available in iQ Select and help the program achieve its goal of providing consistent returns with lower volatility. It is also our most versatile quantitative trading program, as it can be traded with significantly more, or less, capital than our suggested minimum funding level (for well-qualified investors only).
Each of the iQ Automated Trading Programs can be licensed individually or bundled together for investors with larger portfolios. To see how combining the programs, and using different funding levels, can be used to pursue target return-on-investment (ROI) and risk objectives, request access to the online InvestiQuant Portfolio Builder app by emailing [email protected].

Why InvestiQuant's Automated Trading Strategies Perform Better Than Most Hedge Funds, CTAs, and System Developers
Built By Experienced Professionals.
InvestiQuant's founders have decades of combined professional and retail trading experience and have managed tens of millions of investment capital using our proprietary algorithmic day trading strategies for the index futures markets. During that time, they've learned the difference between what "should" work and what "does" work. They are supported by a highly experienced team of quantitative traders, data scientists, and world-class developers with algorithmic software and Advanced Machine Learning expertise.
Proven Edges Using AI and Machine-Learning.
With a little time and effort, just about any software engineer can create a trading strategy based on artificial intelligence (advanced machine learning).
But few will work.
Because the power is not in the software, but in the <DATA> that feeds it. Today, nearly 1,000 proprietary intraday and overnight market factors serve as inputs to iQ's sophisticated, institutional-quality strategies. We are pioneers in the development and application of adaptive trading algorithms based on advanced machine-learning techniques. We launched our first-generation machine-learning strategies in 2012-14, refined them with the help of Duke University's Center for Quantitative Modeling in 2015-2016 (the Director sits on our Board), and created our 2nd generation AI technology in 2020-2021.
Unlike most hedge funds and commodity trading advisors, InvestiQuant focuses exclusively on trading during regular market hours and completely avoiding overnight exposure—and the risk and surprises that accompany it. (An overlooked benefit of sitting in cash every night, like we do, is you can withdraw your money at any time without needing to unwind positions.)
Many traders and managers can articulate sound risk management techniques, but the InvestiQuant team has actually implemented and successfully managed risk for tens of millions of dollars professionally as licensed Series 3 traders. More importantly, the InvestiQuant team risks its own capital and relies on the very same strategies to achieve their investment goals.

Turnkey Automated Trading With Professional Oversight
​
and

YOU

In Control
It takes more than quality trading strategies to create a great solution. Lightning-fast execution of future signals, using sophisticated, fully automated algorithms, enabled across hundreds of client accounts simultaneously, requires real-time, professional oversight and expertise. The average discount broker won't cut it. And, it requires a merchant where you can rest easy knowing that your investment capital is safe, 24x7, 365 days a year.
To deliver such a solution, InvestiQuant only works with select, specialized execution brokers who are experts in algorithmic futures trading, as well as providing 1-on-1 client support. Their job is to ensure our quantitative trading signals are flawlessly executed across all clients' accounts and that everyone gets the same results every day.
iQ's brokers earn their compensation through a fair commission structure that we've pre-negotiated. Commissions are typically 1-2% of each iQ trading program's average annual return and typically less than the rates charged by larger, so-called "discount" brokers. We pay the same commission rates in our accounts, and there are no hidden fees. None.
Other than monitoring your monthly statements, there is literally nothing you need to do. No software to install or manage and no daily tasks whatsoever. Just a seamless, turnkey experience where you maintain 100% visibility, access, and control of your funds every day.
iQ

Autotrading Brokers Provide Clients with
Convenience, Flexibility, & Safety

✓ Low Account Minimums:
Thanks to the efficient leverage afforded by index futures, you can pursue outsized returns with just a small initial investment - allowing you to keep more of your funds invested in stocks, or wherever you choose.
✓ Daily Visibility and Statements:
Stay informed with daily and monthly brokerage statements, and the popular monthly performance update from iQ that keep you in the loop.
✓ Funds Available 24/7 for Withdrawal:
Unlike hedge funds, there are no lockup periods. Access your capital whenever you need it. Want to withdraw profits? Have an emergency? No problem. It's your money.
✓ Pause or Cease Trading At Any Time:
It's your account, so you can turn off iQ strategies at any time.
✓ Tax-Advantaged Futures:
With tax-efficient futures trading strategies (which are taxed 60/40 long-term vs short-term gains in the U.S.), you keep more of what you earn in your account.
Discover the

iQ

Automated Trading Difference For Yourself
InvestiQuant's automated trading programs provide a comprehensive, turnkey, alternative investment solution for investors looking to diversify, protect, and grow their wealth. With the added convenience, flexibility, and safety offered by iQ Autotrading Programs, you can confidently entrust your investment capital to InvestiQuant's "next generation" solutions.