Autotrading - The Role of the Client, Broker, and Developer
Introduction
There is much more to autotrading than meets the eye. Despite the sound of "auto," there is an abundance of hard work that goes on behind the scenes to deliver a powerful, trustworthy investment solution that has the greatest probability of achieving the investor's financial objectives.
The client, the broker, and the algorithmic developer each play a vital role in ensuring the automated trading solution is properly enabled and successful. Each is a part of a whole that works together.
The client licenses the desired autotrading program(s), provides and maintains appropriate funding levels, and monitors their account balances.

The broker facilitates the process by connecting clients' accounts with the appropriate autotrading solution, oversees trading execution and provides personalized support.

The developer creates the adaptive trading algorithms and maintains seamless integration with the broker's systems for optimal trade execution.
The collaborative relationship between these three parties creates an environment in which investors can maintain control and visibility, while enjoying the most hands-free and stress-free investment experience possible.
When considering automated trading solutions with IQ, it is crucial to understand the different parties involved in the autotrading process. In this blog post, we will explore the roles and responsibilities of clients, brokers, and ourselves in operating algorithmic trading programs.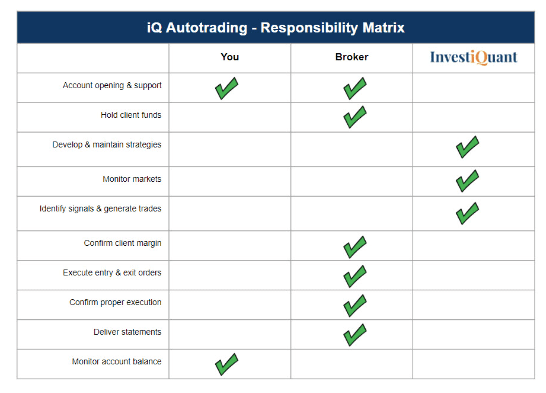 What Are Your Responsibilities as the Client?
As a client, your tasks are limited, yet essential. The first step is to select and license the iQ Autotrading program best suited for your desired investment amount, financial goals, and risk tolerance. InvestiQuant will then connect you with one of our approved execution brokers who will assist you with submitting the required information for opening and funding a private investment account. Most investors' accounts are established in their own names and are typically approved for trading within 24-48 hours. Entities and individual retirement accounts are a bit more involved and take longer.
Once your account is set up, it will be automatically enabled for trading alongside the accounts of InvestiQuant's principals and our many other clients. When trading commences, your responsibility shifts to simply monitoring your account balance from time to time. (Daily is probably too frequent and monthly is typically about right for most.)
Important: If at any time you wish to pause the trading of your account, or you need your funds for another purpose, simply notify the broker. Note: InvestiQuant, as a professional signal developer, has zero visibility or access to your funds and accounts. We focus solely on creating, maintaining, and transmitting the best quantitative trading signals possible. You maintain total control of your account and funds at all times.
What Are the Responsibilities of the Broker?
Brokers play a pivotal role in supporting your algorithmic trading journey. They assist you in setting up your account at one of InvestiQuant's approved futures merchants (also known as "FCMs"). FCMs are highly secure and regulated firms (by the NFA and CFTC) that act as the custodian of your funds and facilitate the trading of your account via the Chicago Mercantile Exchange (CME) using index futures contracts.
Index futures are derivatives of the S&P 500 - a stock market index comprised of 500 of the largest companies traded on the New York stock exchange in the United States. Futures contracts are ideal instruments for algorithmic trading (long and short) and provide a superior leveraged trading opportunity, while minimizing cash requirements and taxes. Their many advantages make opening a futures account at an authorized broker well worth it! (Note: trading involves risk and is not suitable for everyone. Please consult a registered futures broker for more information.)
In addition, the broker's team is responsible for connecting your account to the desired autotrading program and ensuring error-free execution of the iQ algorithmic strategies. They also assist clients with adding and withdrawing funds as needed and managing any margin-related issues. Additionally, brokers provide daily and monthly statements to keep you informed and updated at all times. In return for their many critical tasks, brokers are compensated via a low cost commission structure that we've pre-negotiated on behalf of our clients.
What Are the Responsibilities of the Developer?
As algorithmic strategy developers, we are akin to the builders and maintainers of a jet airplane upon which your hard-earned capital will fly in—integral and crucial to the entire autotrading process.
Our responsibilities involve developing, maintaining, and monitoring the markets, data, strategies, and execution network that support autotrading from start to finish. Using our decades of professional trading and software development experience, we create and deliver the statistically-based signals that the broker's software uses to trade your account. Our team is focused on ensuring that our algorithmic trading system operates smoothly, efficiently and flawlessly every trading day of the year. Because we also risk our own capital and rely upon the very same autotrading programs as our clients, you can rest assured that we are highly motivated to do our absolute best in maximizing profits and minimizing risks every step of the way.
Conclusion
In the world of automated investment strategies, success hinges on institutional-quality software and the highly synchronized, collective efforts of the client, broker, and developer. Just about anyone can create an algorithmic strategy, but it takes a diverse, veteran team of trading and software professionals to deliver autotrading solutions that you can count on, day in and day out, 252 trading days a year.
Contact us today if you'd like to learn more about InvestiQuant and how we might be able to help you better diversify and grow your wealth.