Take Advantage of Volatility And

​Put AI To Work For You With

Professional Automated Trading Strategies
Struggling to achieve your trading goals? Want to diversify your trading plan? Need a strategy that can better trade volatility? InvestiQuant can help. Leverage our proven techniques and let the same AI driven, algorithmic trading strategies that trade our accounts, trade yours.
iQ Autotrading arms traders with robust, statistically-based, systematic trading strategies that are engineered to generate attractive returns, regardless of the direction of the stock market. They are sort of like trading robots, but better. iQ Autotrading programs are turnkey solutions that can be enabled to autotrade your account (at one of our approved execution brokers) in a matter of days AND without having to install or maintain any software whatsoever.
Successful traders know that over-reliance on a single trading technique or options strategy will result in inconsistent trading results, deeper drawdowns, under-performance, and failure to achieve one's financial goals. So why not join the hundreds of traders around the world who trust and rely on InvestiQuant every day?
Boost Your Returns By Adding Algorithmic Trading Strategies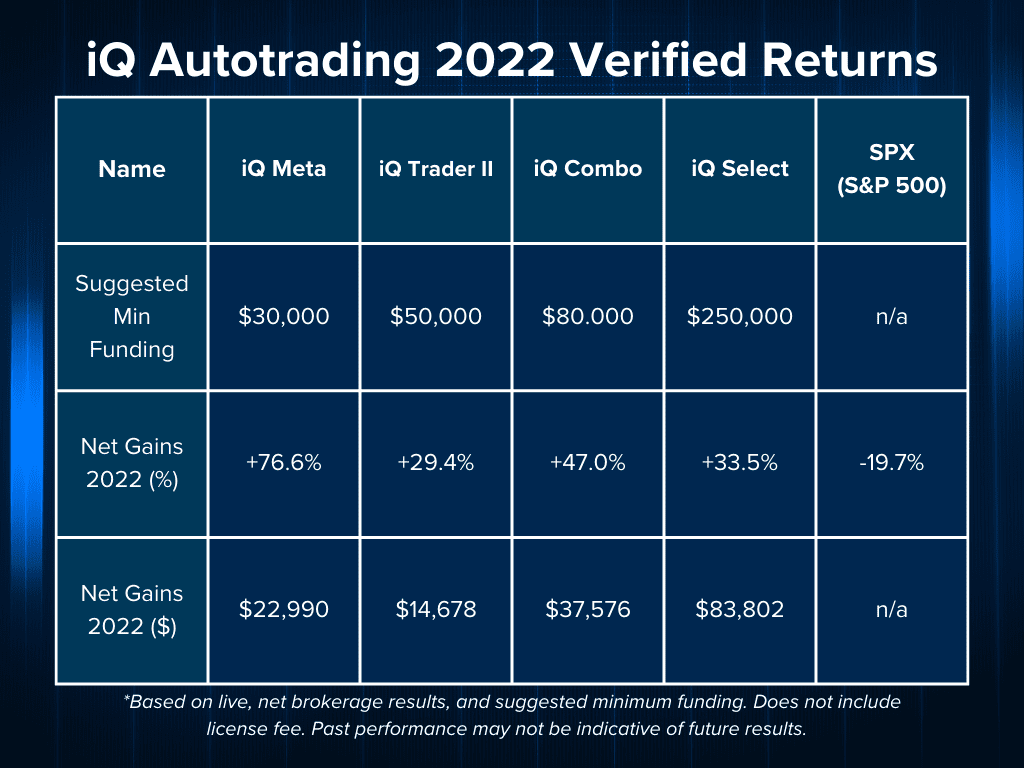 InvestiQuant offers multiple autotrading programs for traders of all sizes. Each consists of one or more intraday trading strategies and all trade the most liquid futures index: the S&P 500 e-mini futures. iQ's core strategies were developed between 2006 and 2017 and were offered publicly as a portfolio of systematic strategies for the first time in 2020.
Due to the intraday design of the strategies, there is no overnight exposure / risk. All strategies seek to profit using one of two primary trading methodologies, mean-reversion or momentum, and are systematically closed by the end of each session. They will trade either long and short with adaptive, volatility-based stops and targets to take advantage of bullish and bearish opportunities. To ensure diversification, a wide range of strategy inputs is utilized, including: alternative data, technical patterns, volatility, market profile, seasonal events, and multiple advanced machine-learning techniques.
Improve Your Trading With Quantitative, Day Trading Strategies Designed To Help Traders Achieve Their Goals
At InvestiQuant, we understand the challenges that traders face in today's dynamic markets. Our founders began developing our advanced, algorithmic trading solutions more than a decade ago to address these challenges head-on and help them, and other like-minded traders, pursue their financial goals with confidence and conviction. The result? A powerful, hands-free solution for traders of all types:
✓ Strong, Verified Returns:
Our institutional-quality hedge fund strategies delivered outstanding, broker-verified returns in 2022, making it an ideal choice for traders seeking to jump-start, or diversify, their own trading results.
✓ Potential for Outsized Growth:
iQ's algo trading programs focus on high ROI strategies, providing you with the opportunity to achieve exceptional returns and pursue substantial growth of your trading capital, while controlling risk.
✓ Emotion-Free, Statistically-Based:
Our automated trading systems leverage decades of quantitative research and advanced machine-learning algorithms to make objective, statistically robust trades and avoid the emotional pitfalls that often hinder trading success.
✓ Like A Trading Robot, But Better:
There is no software to install or maintain. InvestiQuant and your execution broker handle all the technical aspects of systematic trading, so you can sit back and leave the nerdy, quant trading stuff to us.

✓ Low Correlation with Other Day Trading Strategies:
iQ's unique, automated day trading methodology generates returns that are not correlated with traditional stock trading or day trading strategies.
✓ Turnkey, Hands-Free Solution:
Say goodbye to stressful, manual trading and babysitting trades. Our execution brokers oversee iQ's sophisticated trading software which trades your capital (alongside ours and hundreds of clients' accounts) automatically, saving you time, effort and stress.
✓ Aligned Interests:
We put our money where our mouth is. We use the same programs to trade our own capital, ensuring our interests are aligned with yours for maximum mutual success. If your account isn't growing, neither is ours!
iQ offers multiple fully automated, algorithmic quant trading programs for traders and investors of all sizes, funding levels, and risk tolerances.

Take control of your journey to financial success and join the countless satisfied traders who have relied on InvestiQuant and algorithmic trading strategies since 2008.